TREATMENTS:
Procedural Lab
At Cardiovascular Medicine, we want to make care as convenient as possible. To this end, we offer several in-office peripheral vascular services in our state-of-the-art procedural lab. Our lab features one of the most technologically advanced vascular imaging systems available in an office setting. Using high-tech equipment, our experienced cardiovascular physician specialists can detect and treat peripheral vascular disease on an outpatient basis.
When to See an Interventional Cardiologist
Peripheral vascular conditions occur when your peripheral arteries are narrowed or blocked, resulting in a lack of adequate blood flow. This can lead to painful symptoms, as well as put you at risk for serious complications such as amputation or stroke. Therefore, if you are at risk for peripheral arterial disease or are experiencing possible symptoms, it's important to make an appointment to explore what's going on. We can assess: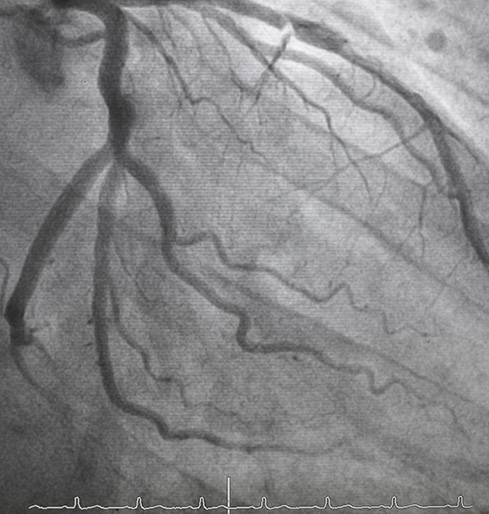 Diagnostic Testing
To examine your peripheral arteries, we use angiography, an imaging technique that uses X-ray and contrast dye to see how efficiently blood is flowing. The contrast dye provides improved visualization so we can identify areas of narrowing or blockage. We use minimally-invasive procedures to detect abnormalities in your extremities and kidneys, including:
Peripheral Vascular Treatments
We are proud to offer peripheral vascular services in-office to treat your narrowed or blocked peripheral arteries. By providing these services in our office, our patients experience the convenience of a safe, accessible environment, along with a predictable schedule and a lower cost. Our procedures are minimally-invasive and allow you to return to your normal activities sooner. Discover more about our procedural lab treatments.
Treatments :
Peripheral Atherectomy
What is a Peripheral Atherectomy?
Peripheral atherectomy is a procedure that uses a blade to cut through plaque and calcium buildup in the arteries in the arms, legs, and trunk of the body. The blade reduces the plaque to particles smaller than red blood cells. As a result, blood can flow more freely through the vessel.
A laser can also be used to open the artery. This laser vaporizes the plaque and smooths the lining of the vessel.
The purpose of a peripheral atherectomy is to eliminate the build-up of plaque in your arteries. We may recommend the procedure to you if your arteries become too narrowed or blocked from plaque inside the artery walls. When arteries are blocked, blood flow is reduced. Without oxygen-rich blood to nourish tissue, the muscles of your lower extremities will cramp and lose strength.
Reduced blood flow can also result in more serious conditions, such as peripheral arterial disease (PAD). PAD can cause uncomfortable symptoms as well as put you at risk for complications such as stroke or amputation.
What to Expect
A peripheral atherectomy is a minimally-invasive procedure that our highly trained cardiologists perform in-office under conscious sedation. In the days leading up to the procedure, we may ask you to stop taking certain medications.
The peripheral atherectomy procedure itself will take about two hours. During the procedure, we will guide a catheter with a blade at its tip through your artery until it reaches the area of narrowing. The catheter blade allows us to scrape away the plaque, which is then collected in a chamber in the tip of the catheter for removal. If you have a significant amount of atherosclerosis, we may need to repeat this process multiple times.
Recovery
After your peripheral atherectomy, we will ask you to rest in our recovery room for a few hours so we can observe you. You should be able to resume most normal activity about a week after the procedure. Beyond recovery, it's important to continue to take your medications and make choices that support a healthy lifestyle, including:
Getting regular exercise
Lowering your cholesterol
Eating a healthy diet low in saturated fat
Maintaining a healthy weight
Quitting smoking
Risks & Side Effects
Atherectomy uses X-ray and contrast dye to help us guide the catheter, which means you will be exposed to a small amount of radiation. Each exposure you have with X-ray increases your risk; please talk to us if you have concerns. If you are pregnant, we generally won't recommend procedures with X-ray. Some of the risks associated with an atherectomy include:
Embolism
Re-blockage of an artery
Allergic reaction
Impaired kidney function
Am I a Candidate?
If you have blockages in arteries that occur around branches or in vessels that are not easily treated with stents, an atherectomy may be an option for you. If you have been diagnosed with atherosclerosis or peripheral arterial disease, a peripheral atherectomy could alleviate your symptoms, which may include:
Leg discomfort, pain, or cramping with activity
Leg numbness or weakness
Heavy feet/legs
Erectile dysfunction
Slow toenail or leg hair growth
Burning or aching in your toes while resting
Cold legs or feet
Wounds and sores that won't heal
More on Peripheral Atherectomy
Expected Outcomes of a Peripheral Atherectomy
A peripheral atherectomy should provide relief from your symptoms. Our goal is to:
Eliminate symptoms of pain and discomfort
Slow down the progression of atherosclerosis
Reduce your risk of stroke and serious complications
What is an Embolism?
An embolism is when an artery is blocked by a blood clot or air bubble. This can happen when plaque that's been removed travels to another artery.
Factors That Increase Your Risk of Peripheral Arterial Disease
There are certain risk factors that increase your risk of developing peripheral arterial disease. These include:
Smoking, the most prominent risk factor
High cholesterol
High blood pressure
Obesity
Older age
Being male
Family history of heart or blood vessel disease
Meet Your Illinois and Iowa
Cardiovascular Physicians
Our team of physicians, researchers, and patient care specialists are focused specifically on cardiovascular best practices and lifesaving heart and vein care. We hire and empower the best cardiovascular doctors in the nation right here in the Heartland.
CVM Locations
Explore the map below to see location options and find the clinic most convenient for you!
Insurance Providers We Accept
Our team of physicians, researchers, and patient care specialists are focused specifically on cardiovascular best practices and lifesaving heart and vein care.
In Search of Care?

Request a Consultation Today

Please fill out the form below to explore your options for care and get your questions answered: