TREATMENTS:
Cardiovascular Imaging
& Diagnostics
Cardiac imaging provides pictures of your heart and cardiac vessels to see how your heart is performing. The noninvasive diagnostic tests – including X-rays, CT scans, and ultrasounds – help us diagnose various heart and vascular conditions. At Cardiovascular Medicine, we offer advanced imaging tests so we can successfully treat and manage all types of cardiovascular diseases.
When to See a Cardiovascular Specialist
If you are at risk for heart disease or have symptoms that concern you, our comprehensive testing can help identify any issues. Conditions that we diagnose with cardiac imaging include: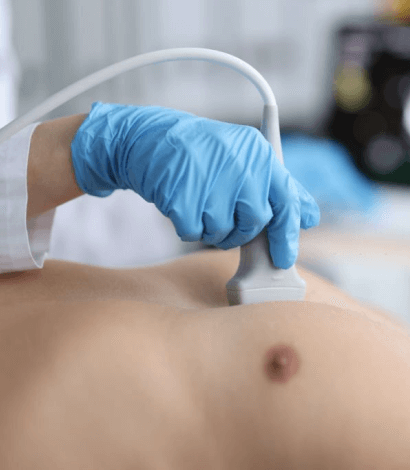 Diagnostic Testing
Our range of cardiac diagnostic tests can provide the information you need to make informed decisions about your healthcare. Deciding which test is right for you will depend on several factors, including your symptoms and individual circumstances. Our diagnostic testing options include:
Cardiovascular Treatments
We offer an array of procedures to treat and manage your cardiovascular condition so you can feel better. Working alongside you, we design a treatment plan that will allow you to feel better and return to doing the things you love. Our treatment options include:
Treatments :
Abdominal Aortic Aneurysm Screening
What is an
Abdominal Aortic
Aneurysm Screening?
An abdominal aortic aneurysm (AAA) screening is a cardiac imaging procedure that checks for swelling in the aorta. Our doctors use ultrasound to look at the main blood vessels of the abdomen and detect any abnormalities or swelling. If the ultrasound shows an aneurysm, we may also perform an abdominal CT scan or an abdominal MRI to get a more detailed look and determine the severity.
As the main blood vessel from the heart to the stomach, the aorta is responsible for distributing blood throughout the body. Over time, the pressure from blood flow can cause an area to weaken and balloon out to form an abdominal aortic aneurysm, or AAA.
An AAA can be life-threatening as it creates a weak spot in the blood vessel walls, risking possible rupture and hemorrhage. The condition is often asymptomatic until it is close to rupturing, which is why AAA screening is critical for those at risk. We recommend abdominal aortic aneurysm screening for men aged 65-75 who are smokers or former smokers; or for those who have a family history of AAA.
What to Expect
Ultrasound is the most common cardiac imaging procedure we use to detect an abdominal aortic aneurysm. An ultrasound is a painless, non-invasive screening that uses high frequency sound waves to visualize the abdominal aorta. During the exam, you will lay on your back while a technologist uses a probe or transducer to take images and measurements of your abdominal aorta.
To prepare, we ask that you fast for 12 hours prior to the screening. Continue to take all of your medications as usual — sips of water are fine. If you are a diabetic, please check with us about fasting and taking your diabetes medications.
Wear a comfortable, two-piece outfit to the screening. The exam will take approximately 10-15 minutes.
Recovery
Since ultrasound is a simple, non-invasive procedure, you will not have recovery time or restrictions after your exam. However, depending on what the screening shows, you may need to undergo regular monitoring and additional cardiac diagnostic tests. Your doctor will discuss your specific case with you, including any next steps.
Risks & Side Effects
Ultrasound is considered to be a safe procedure for most patients, with no known risks or side effects.
Am I a Candidate?
Males between the ages of 65 and 75 who have used tobacco are at the highest risk of developing AAA. We recommend a screening for all men who fit this criteria.
Your doctor will discuss if screening is right for those who meet some of the criteria, such as men aged 65-75 who have never smoked, or women between ages 65-75 who have smoked. Family and personal history of aneurysms may factor into these decisions.
More on Abdominal Aortic Aneurysm
Common Risk Factors That Can Lead to Developing an AAA
Tobacco use, present or past (90% of those with AAA are current or former smokers)
Being male
Family history of AAA
Personal history of aneurysms
High blood pressure
High cholesterol
Obesity
Meet Your Illinois and Iowa
Cardiovascular Physicians
Our team of physicians, researchers, and patient care specialists are focused specifically on cardiovascular best practices and lifesaving heart and vein care. We hire and empower the best cardiovascular doctors in the nation right here in the Heartland.
CVM Locations
Explore the map below to see location options and find the clinic most convenient for you!
Insurance Providers We Accept
Our team of physicians, researchers, and patient care specialists are focused specifically on cardiovascular best practices and lifesaving heart and vein care.
In Search of Care?

Request a Consultation Today

Please fill out the form below to explore your options for care and get your questions answered: