TREATMENTS:
Cardiovascular Imaging
& Diagnostics
Cardiac imaging provides pictures of your heart and cardiac vessels to see how your heart is performing. The noninvasive diagnostic tests – including X-rays, CT scans, and ultrasounds – help us diagnose various heart and vascular conditions. At Cardiovascular Medicine, we offer advanced imaging tests so we can successfully treat and manage all types of cardiovascular diseases.
When to See a Cardiovascular Specialist
If you are at risk for heart disease or have symptoms that concern you, our comprehensive testing can help identify any issues. Conditions that we diagnose with cardiac imaging include: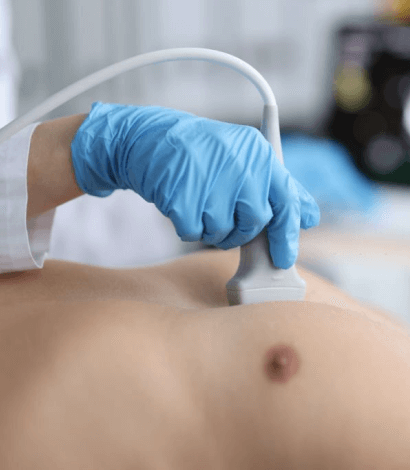 Diagnostic Testing
Our range of cardiac diagnostic tests can provide the information you need to make informed decisions about your healthcare. Deciding which test is right for you will depend on several factors, including your symptoms and individual circumstances. Our diagnostic testing options include:
Cardiovascular Treatments
We offer an array of procedures to treat and manage your cardiovascular condition so you can feel better. Working alongside you, we design a treatment plan that will allow you to feel better and return to doing the things you love. Our treatment options include:
Treatments :
Lipid Clinic for Cholesterol Management
Managing High Cholesterol
Cholesterol is a fat that is found in your blood. While cholesterol is important in building healthy cells, too much cholesterol can be problematic, putting you at an increased risk of heart disease.
When there is too much cholesterol in your blood, fatty deposits can accumulate in your blood vessels. Over time, these deposits can grow and interfere with blood flow through the arteries. These deposits also run the risk of suddenly breaking off and forming a clot that could cause a heart attack or stroke. High cholesterol causes no symptoms. You must have a blood test to see if you have it.
Genetics can play a role in developing high cholesterol, but it is most often due to unhealthy lifestyle choices. If you have high cholesterol, it's important to take steps to lower it. Eating a healthy diet and getting regular exercise can go a long way in helping to reduce cholesterol. In some cases, medication may be necessary.
Our lipid clinic for cholesterol management is designed to help patients achieve better health.
What to Expect
We're proud to provide a cholesterol management clinic for our patients and referring providers. The goal of the program is to teach patients how to make better choices that will allow them to lead a heart-healthy lifestyle.
We have an entire team dedicated to patient cholesterol care. Our knowledgeable cholesterol staff will review your medical and family history, explain your blood tests and lab results, and help you establish goals based on current research. Throughout the program, we will monitor your progress toward your goals and keep your cardiologist and primary care provider informed of your results. We will also prescribe and adjust cholesterol-lowering medications as needed.
Recovery
It is possible to lower your cholesterol. In many cases, making a few simple lifestyle changes can help you achieve normal blood cholesterol levels. Eating a healthy diet full of plant-based foods, whole grains, and omega-3 fatty acids can make a huge impact. Regular exercise is also an important component of overall health. Our cholesterol management program will create a personalized plan for you to follow.
If dietary changes and exercise alone aren't enough to lower your cholesterol levels, we may recommend medication. The right medication for you will depend on many factors — we'll discuss the best plan for you at your appointment. If we feel that you need cardiac diagnostic tests to learn more, we will recommend one based on your personal situation.
Risks & Side Effects
Getting tested for your cholesterol levels is vital for your health. Blood tests are a simple and easy way to understand your cholesterol levels and if you're at risk for heart disease or stroke. If you need medication or cardiac imaging tests, your doctor will discuss the potential risks and side effects with you.
Am I a Candidate?
Having regular cholesterol screenings is important for your health. How often you should get them will vary depending on your age and gender.
All individuals should have screenings every five years. We recommend screenings every one to two years for men starting at age 45, and for women beginning at age 55. Over age 65, we recommend cholesterol tests for everyone annually.
It's important to note that other factors may call for more frequent cholesterol screening. Those with a family history of high cholesterol, heart disease, or certain other risk factors may need to get tested more often. In addition, if your cholesterol levels are high, we may ask that you get tested more often.
If we discover you have high cholesterol, you are eligible to take part in our lipid clinic for cholesterol management.
More on Cholesterol Management
Our Cholesterol Management Program
The program provides education and encouragement related to several factors that can help you lower your cholesterol, such as:
Eating a healthier diet
Engaging in regular exercise
Quitting smoking
Losing weight
Meet Your Illinois and Iowa
Cardiovascular Physicians
Our team of physicians, researchers, and patient care specialists are focused specifically on cardiovascular best practices and lifesaving heart and vein care. We hire and empower the best cardiovascular doctors in the nation right here in the Heartland.
CVM Locations
Explore the map below to see location options and find the clinic most convenient for you!
Insurance Providers We Accept
Our team of physicians, researchers, and patient care specialists are focused specifically on cardiovascular best practices and lifesaving heart and vein care.
In Search of Care?

Request a Consultation Today

Please fill out the form below to explore your options for care and get your questions answered: